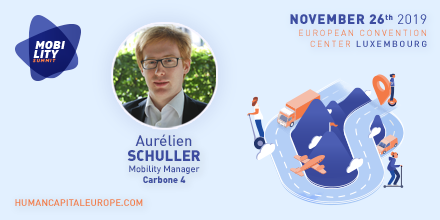 Aurélien Schuller, manager at Carbone 4, will intervene at the Human Capital Europe 2019 event, hold in Luxembourg.
"The Human Capital Europe is an international peopleoriented conference addressing the relashionship between human-beings and their company, colleagues and environment. It gives the participants the opportunity to connect with key players, rethink the workplace, go in depth with current HR, Mobility, Health topics to lead humans to the next level in a more responsible world. It is the perfect place to network with peers and future business partners."
Aurélien will address a conference at the Mobility Summit entitled 'Climate and energy transition of mobility: challenges and trends', at 3pm on November 26th, 2019.
Contact us
Contact us about any question you have about Carbone 4, or for a request for specific assistance.
Contact us